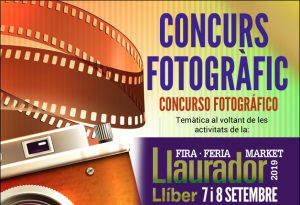 Participants
Both professional and amateur photographers can enter the competition.
Use of photographs by the Town Hall for promocional purposes is authorised by participation in the competition.
Winners of each section cede to the Town Hall the property rights of the phtographs for their usein promotiom, difusion, distribution and public communication.
Themes
The theme is unique and exclusively related to 4th Feria de Llaurador which will take place in Llíber on the weekend of 7 and 8 September 2019, and including all the evnts held during this weekend.
Presentation of Photographs
Each contestant can present a maximum of 6 photographs per theme.
Photographs must be 30 x 40 or 30 x 45 in size and without any form of support.
The original photographs must be accompanied by digital support in JPG at maximum resolution.
The back of each photograph should have the title and theme clearly written.
Details of the contestant should be presented in a separate sealed e, nvelope, full name, telephone number, address, DNI and e-mail address as well as the titles and themes of the photgraphs presented.
Photographs must be inedited and not presented in any other competition or published in social media. Basic adjustments to improve the quality are permitted but substantial variation of the image, additions or cloning elements are not allowed. The Town Hall will not be responsible for the rights of such images.
NOTE Inscription is free and can be made by e-mail to :-  cultura@lliber.org   or by telephone to 96 5730509
Presentaion
Entries can be handed in to the Town Hall of Llíber from 08.00 to 15.00 or by post to   Ayuntamiento de Llíber, Plaza Mayor 1, CP 03729 and entries will be accepted up until 20 September 2019
Return of Entries
Contestants who wish to collect their entries can do so from Llíber Town Hall after 21 October 2019, the prize winning photographs become the property of the Town Hall.
Entry to the competion assumes acceptance of the rules and the decisions of the jury are final.
The organisation is not responsible for any deterioration or loss of the presented work.
The Jury
The Jury will be composed of relevant persons in the world of photography and the Councillor for Cultura and President of the A:F:B.
Exhibition and presentation of prizes
The selected photographs will be displayed in the Social Centre, Llíber on 9 October 2019, when the prizegiving will take place. Photographs will remain on display until 20 October.
Prizes
1st prize for  best photograph :- 300€
2nd prize for best collection :-    200€
3rd prize for most original :-       100€
4th prize for local photographer :- 50€
The competition intends to reflect and value the traditions of our cultural heritage, gastronomic and artesanal and for this the photographs should unmistakenly demonstrate said traditions and customs of our village